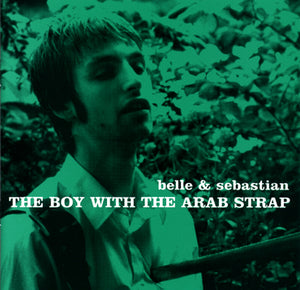 The Boy with an Arab Strap twinkles innocently with all the charm of a wind-up music box - but only if you don't listen to the lyrics (or look up what an arab strap is).
The dichotomy between Stewart Murdoch's tender adolescent vocals, the sweet, sincere instrumentation, and often lude lyrics make Belle and Sebastian so alluring. A vivid portrait of the internal and external contradiction of growing up. To the world, you are still a child but inside you are shaken up bottle of carbonated hormones ready to explode.
For the first time, Murdoch shares the songwriting credits and vocal duties with band members Isobell Campbell, Stevie Jackson and Stuart David and the album is much richer because of it. Maudlin cellos, sparkling xylophones, ecclesiastical organs and a touch of bagpipe decorate the album. It is gorgeously ornate and antique, you can almost smell the mahogany.
The Boy With The Arab is like a storybook. Moral tales and grim vignettes told through the eyes of a wide-eyed child not ready for the big bad world. Hogarth might have written them if he had listened to more of The Vaselinesgrowing up. Sometimes Presperterian in its judgement, and much like Hogarth, it is wonderfully detailed, hilarious, aesthetically enthralling and human.