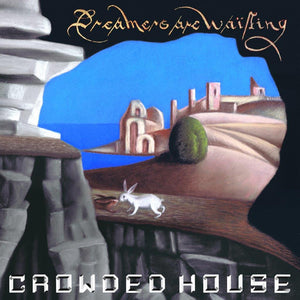 Release Date 04/06/2021
CROWDED HOUSE is a long standing and much-loved vehicle for the song writing talents of Neil Finn. Formed in Melbourne Australia in 1985 out the ashes of New Zealand's Split Enz by Neil, Paul Hester and Nick Seymour, their eponymous self-titled debut album on Capitol Records went on to global success with the hits 'Don't Dream It's Over' and 'Something So Strong'. Those songs and many that followed are still resonating with audiences today, the former in particular being one of the most covered songs of the last 20 years. The band's first incarnation lasted from 1985 through 1995 with 4 studio albums and enjoyed much success worldwide, becoming particularly beloved for their freewheeling and interactive live shows. This line-up said Farewell to the World on the steps of the Sydney Opera House in 1996 with a now legendary performance in front of 150,000 people.

 In 2005 following the tragic death of Paul Hester, Neil and Nick felt emotionally compelled to bring CROWDED HOUSE back, to put some more good history, as they described it, into the story of the band.  Drafting in new drummer Matt Sherrod and with long time touring member Mark Hart they released the album Time On Earth to critical acclaim and toured the world. Another album, Intriguer, was recorded in 2009 and CROWDED HOUSE was inducted into the Aria Hall of Fame in 2016, at the same time reprising its Farewell shows at the Sydney Opera House with 3 nights of stunning performances.
With in excess of 12 Million albums sold across six studio albums, two acclaimed Best of collections, over 1.2 Billion streams to date and following Neil Finn's surprise star turn and an extremely successful world tour with Fleetwood Mac, Neil and Nick Seymour are inspired to begin a new chapter in the CROWDED HOUSE story. A new generation has grown up and connected with their songs and will now get to experience fresh new music alongside legendary anthems from the band's 35-year career.
CROWDED HOUSE released their first new music in more than a decade with the October 2020 debut of the single "Whatever You Want". The video stars the charismatic and hugely talented indie artist Mac DeMarco making his acting debut. The video can be seen HERE.
Recorded in Valentine and United Studios in LA and then remotely across the first half of 2020, CROWDED HOUSE's seventh studio album is titled 'Dreamers Are Waiting'.
TRACKLISTING
Bad Times Good  

Playing With Fire

To The Island

Sweet Tooth

Whatever You Want

Show Me The Way

Goodnight Everyone

Start Of Something

Too Good For This World

Real Life Woman

Love Isn't Hard At All

Deeper Down