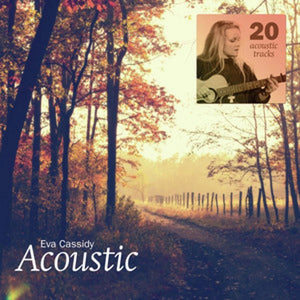 Release Date 23/07/2021
TRACK LISTING
Disc 1 - Side A 1. Time After Time (Acoustic) / 2. Wayfaring Stranger (Acoustic) / 3. Early Morning Rain (Acoustic) / 4. At Last (Acoustic) / 5. Who Know Where The Time Goes (Acoustic)
Disc 1 - Side B 1. Dark Eyed Molly (Acoustic) / 2. Songbird (Acoustic) / 3. Bold Young Farmer (Acoustic) / 4. Tennessee Waltz (Acoustic) / 5. It Doesn't Matter Anymore (Acoustic) / 6. People Get Ready (Acoustic)
Disc 2 - Side A 1. The Water Is Wide (Acoustic) / 2. Kathy's Song (Acoustic) / 3. True Colours (Acoustic) / 4. You Take My Breath Away (Acoustic)
Disc 2 - Side B 1. American Tune (Acoustic) / 2. I Wandered By A Brookside (Acoustic) / 3. Autumn Leaves (Acoustic) / 4. Wade In The Water (Acoustic) / 5. Danny Boy (Acoustic)
About Eva Cassidy
10x UK Gold Albums 3 UK No.1 Albums 3.96 Million UK Scanned Physical Sales
• 20 Acoustic Tracks, Compiled As An Acoustic Best-Of Album.
• The New Album Builds On The Popularity Of A Previous Acoustic Album, Simply Eva (12 Tracks), Released 10 Years Ago, Which Has UK Scanned Sales Of 236K And Was Top 5 On Release.
• The 3rd Jan 2021 Was The 25th Anniversary Of Eva Cassidy's Legendary Blues Alley Concert. A New Documentary, "One Night That Changed Everything" Was Premiered On The Anniversary Itself With A General Promotional Campaign Around This Date.
• The 18th March 2021 Is The 20th Anniversary Of The Songbird Album Going No.1, There Will Be A Promotional Campaign In Support.