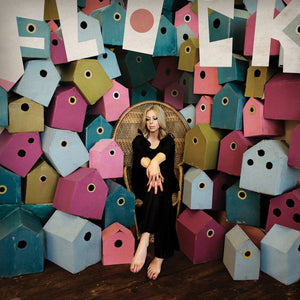 Flock is the record that Jane Weaver always wanted to make, the most genuine version of herself, complete with unpretentious Day-Glo pop sensibilities, wit, kindness, humour and glamour. A consciously positive vision for negative times, a brooding and ethereal creation.
The album features an untested new fusion of seemingly unrelated compounds fused into an eco-friendly hum; pop music for post-new-normal times. Created from elements that should never date, its pop music reinvented. Still prevalent are the cosmic sounds, but Flock is a natural rebellion to the recent releases which sees her decidedly move away from conceptual roots in favour of writing pop music. Produced on a complicated diet of bygone Lebanese torch songs, 1980's Russian Aerobics records and Australian Punk.
Amongst this broadcast of glistening sounds is The Revolution Of Super Visions, an untelevised Mothership connection, with Prince floating by as he plays scratchy guitar; it also features a funky whack-a-mole bass line and synth worms. It underlines the discordant pop vibe that permeates Flock and concludes on Solarised, a super-catchy, totally infectious apocalypse, a radio-friendly groove for last dance lovers clinging together in an effort to save themselves before the end of the night.
The musician's exposure to an abundance of lost records served as a reminder that you still feel like an outsider in this world and that by overcoming fears you can achieve artistic freedom. Jane Weaver continues to metamorphise.