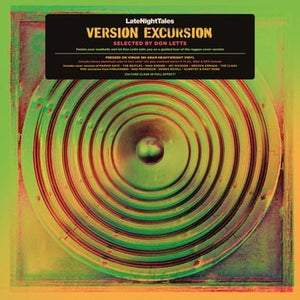 Cultural polymath - pop star, filmmaker, radio broadcaster, commentator, Grammy winner. Oh and DJ, too. Take your pick from the many coats worn by our selector, Don Letts aka The Rebel Dread. So this latest bulletin from Letts HQ is merely one angle of a multifaceted personality, his take on the JA tradition of the cover version.
The history of Caribbean music owes a debt to R&B as many of the early island releases were cover versions of US 45s. Ska's breakthrough commercially, Millie Small's 'My Boy Lollipop', was originally recorded by Barbie Gaye in '50s New York. Cover versions became quite a thing in Jamaica and Don, following in that tradition, has dug deep with a selection of interesting dubbed out covers including thirteen exclusives.
There's a diverse mix of classic and new, with legendary figures like John Holt, The Tamlins and Cornell Campbell, mixed in with British veterans Mad Professor and the irrepressible Dennis Bovell, while (relatively) young striplings Kiko Bun, Emily Capell and Prince Fatty deliver the goods, with laidback Texan groovers Khruangbin also offering an exclusive bass heavy-delight.
The song choices are diverse, from French dubsters' OBF's renditions of 'Sixteen Tons', the miners' paean popularised by Tennessee Ernie Ford in the 1950s, to Ash Walker's refix of Omar's 'There's Nothing Like This' and 'All I Do Is Think About You', immortalised by the ill-fated Tammi Terrell and preserved here by Quantic (the latter two both exclusives). Being a Rebel Dread compilation, there's a cover (by Wrongtom Meets The Rockers) of The Clash's 'Lost In The Supermarket' while Don's exclusive, naturally, is a rendition of Big Audio Dynamite's debut hit, 'E = MC2'.