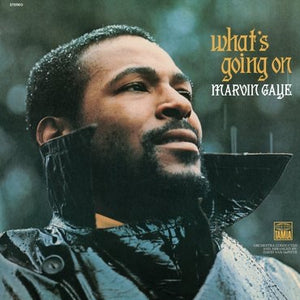 Marvin Gaye finally picks up the mantle Sam Cooke laid down 6 years after he released A Change Is Gonna Come. The Motown singer took a huge leap after his Tammi Terrell/Hit Factory period to write one of the most politically charged, era defining albums. Inspired by his brother's experiences in Vietnam, Gayewrote from the perspective of a returning war vet, who finds himself cut off from society, out of touch with culture, unable to find a job. Gaye extends his commentary on the social ills of the time to cover drug abuse, the environment, poverty and the consequences for future generations.
A revolutionary album lyrically and musically. The album structure lets the songs bleed into one another, as one stream of consciousness, with cascading strings, fleeting saxophones, flutes and bongos sprinkled throughout. Loose, like a weed fuelled jam down the park, or a catch up in the unemployment line. By the time Side A is done you have drifted through 6 songs without noticing a single one pass.
It was also one of the first politically conscious soul records to become successful (other than the aforementioned A Change is Gonna Come). Outspoken black commentators and activists had been derided, blacklisted, attacked, falsely accused and murdered during the 60s. From a privileged position relative to many, Gaye was taking a huge risk. What's Going On would inspire the likes of Stevie Wonder, Curtis Mayfield, Gil Scott Heron
The overriding message of brotherhood, community and unity is inspiringly human, and never strays beyond reality. Gaye asks us what we can do to change ourselves, the lives of others and the world on such a personal level, you expect to see him sitting opposite you. He does not preach, he sympathises. His dulce falsetto vocals are innocently mournful. But he is not resigned to his fears, he has faith. 50 years on, we still have a duty to repay that faith.