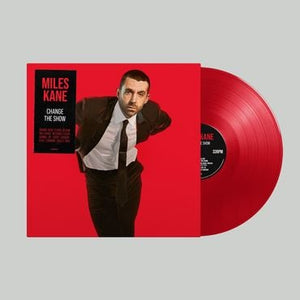 Release Date 21/01/2022
Miles Kane is back with brand new album Change the Show via BMG
Following a chance "no frills session" with psych-rock duo Sunglasses For Jaws at the band's Hackney studio, Miles' fourth solo album Change the Show really began to take shape. "I saw myself in their energy, but also their taste and their knowledge of music," Miles explains. "It was the first time I'd felt old!"
Opening with the honest soft croon of 'Tears are Falling', the album is a joyous ride from start to finish and features a surprising, but spectacular appearance from Grammy-nominated singer Corinne Bailey Rae for a duet on 'Nothing's Ever Gonna Be Good Enough'. 'Don't Let It Get You Down', the first track released from the record, is Miles Kane at his very best: energetic, infectious and full of swagger, the track opening with a sample from fellow Wirral alumnus Paul O'Grady. It's an album that best represents Miles himself: charmingly authentic, and like nothing else you'll hear in pop music today.
"This album was born out of an intense period of self-reflection; having all this unexpected time on my hands," Miles said of the last 18 months. "I wrote songs about big highs, big lows, daydreams, true friends and deep feelings. I learnt to let the future unfold of its own accord, while staying true to myself and that has led to what feels to me like a really uplifting album!"
A record for fans both new and old, Change the Show is the Miles Kane album we've all been waiting for. The apotheosis of his previous works, incorporating those classic rock and glam influences, but focusing more closely on Motown, soul, and Fifties R&B.