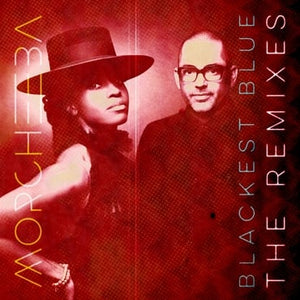 Available exclusively in store on Saturday 18th June 2022. Any/all remaining copies will be on sale online from 8pm on Monday 20th June.
For Record Store Day 2022 Morcheeba have recruited Orbital, Gui Barrato, Kutiman and Voyou to remix four tracks from their latest album Blackest Blue which was released in May 2021.
This is the second of a series of 12" remixes being released especially for RSD, the first Blazed Away - The Remixes sold out in 2019. This year Blackest Blue - The Remixes includes British giants of electronic music Orbital switching up the signature Morcheeba 'chill' vibe of 'Namaste' to an electronic drum and bass dancefloor stomper whilst producer Gui Boratto's remix of 'Sounds Of Blue' is a progressive Electronica/Chill House masterclass!
Morcheeba's global reach is impressive, taking them to every corner of the world . Their signature chilled electronic/organic sound has been border-hopping ever since the London-based band emerged as a household name with a discography spanning three decades. With at least 12 gold and platinum discs and over 350M all time streams, Morcheeba continue to create their own unique sound, a laid-back mix of fusion, funk, and blues with the sweet, fluid vocals of Skye Edwards.