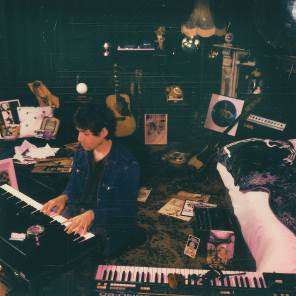 Release Date 1/7/22
Tracklist:

 

Afterneath
Radio
Through The Echoes
Acid Eyes
Stranded Words
Lose It
Petrified In Love
Everywhere
Abigail
Children of The Stars
Heart Filled Up
Shine A Light
Desperation
Julianne
Take Me Take Mine
Writer

 

 

 

OVERVIEW

 

Paolo Nutini is set to release his new album and fourth studio set 'Last Night In The Bittersweet' on July 1st.He launches the album by sharing two new singles, 'Lose It' and 'Through The Echoes', alongside brand new performance videos of both tracks. They provide a timely reminder of his enthralling abilities as a live performer who has previously headlined festivals including Glastonbury's Other Stage and Benicàssim, as well as huge arena shows at London's O2 and Glasgow's OVO Hydro.

 

A recap of everything Paolo has achieved to date reiterates his status as one of British music's biggest success stories. Two of his three albums to date, 'Sunny Side Up' and 'Caustic Love', have hit #1 on the UK album charts as he amassed 8 million global album sales, 8 million UK single sales, and 1.5 billion global streams. The Ivor Novello winner and multiple BRIT Award nominee has also collected a remarkable 18 Platinum certifications in the UK alone.

 

'Last Night In The Bittersweet' will only extend that phenomenal success. It's a 70-minute epic that spans the distance from classic rock to post-punk to hypnotic Krautrock, in the process proving its value as his deepest, most varied, most accomplished, and ultimately most rewarding set so far. The insistent Motorik rhythms of new single 'Lose It' brings shades of early '70s German bands like Can and Neu!, and are a product of Paolo writing increasingly on bass guitar. At the other end of the spectrum, 'Through The Echoes' is a timeless classic in the lineage of Ben E. King and Otis Redding, with Nutini's vocal delivery reminding us why he got snapped up by Atlantic in the first place.

 

'Last Night In The Bittersweet' was produced by Paolo Nutini alongside Dani Castelar and Gavin Fitzjohn. It was written by Paolo, with some select co-write contributions from members of his live band.

 

Paolo Nutini will be touring this summer when he hits the road headlining TRNSMT and Victorious Festivals and two large outdoor shows in Bristol and Belfast, plus very special guest billing at Liam Gallagher's huge Knebworth Park show. Meanwhile, European dates include a tour of Italy in July as well as the Montreux Jazz Festival and Lollapalooza Berlin.