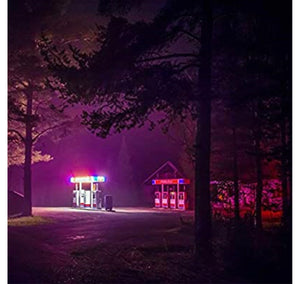 Release date 11/09/2020
In a tumultuous 2020, the re-emergence of Doves with new music has provided a shaft of light in an otherwise brooding sky, finally landing their fifth album, The Universal Want, after an eleven-year artistic break, on Fri 11 September 2020.
The equally ecstatic and relieved response from fans and critics to the first track to emerge, Carousels, during the final, confusing throws of the UK and Europe's strict COVID-19 lockdown in June, proved how desperately their idiosyncratic sense of euphoric melancholy was, and is, needed. Catching many off-guard, Doves unleashed a track of unfathomable depth, unfurling rich and unpredictable pockets of sound, twisted round a sampleof the great Tony Allen at his very best.
"This place is wild at heart and weird on top, you just couldn'tmake it up," said Jimi Goodwin, surveying the world through his window while a global pandemic was taking root in late-March 2020. Paraphrasing Laura Dern's character, Lula Pace Fortune in the 1990, David Lynch film Wild At Heart, Goodwin hits on theLynchian-obsessions shared by all three Doves. Himself, Andy(drums/vocals) and Jez Williams (guitars/programming/vocals)would often find themselves hosting impromptu post-rave, homescreenings in the early 1990s.
By quoting the film, the lead singer and bassist of the twiceMercury-nominated band also, accidentally, expresses what everyone else was feeling at the time of disorientation, fear and hope. Doves have a longstanding habit of doing just that.
First emerging in 1998 with the release of their debut, vinyl-only Cedar EP, Doves' first album, Lost Souls (2000), received both press and award-panel praise, before Number One follow-up, The Last Broadcast (2002) provided the trio with a majorbreakthrough, offering with the hit singles, There Goes The Fear and Pounding. Straight-to-Number One follow up, Some Cities(2005) and the difficult birth of the much-loved Kingdom of Rust (2009) appeared to complete a perfect legacy if the hiatus the band called in 2010 lasted longer than anyone hoped. It certainly lasted longer than the band had expected. "It's bizarre how quickly life just passes," says Goodwin, reflecting on the years that turned into a decade.
The story of The Universal Want, the title itself and other trackssuch as Prisoners giving an impression of the band's disdain towards the consumerist illusion, starts in a rented house in England's Peak District during secret, unintended writing sessions in 2017. Joining the dots, band historians note that it came a full year before announcing their live return and 18 months before they appeared together publicly. That they were a creative force once more was a near impossible secret to keep, as they worked between studios in the North West and the Midlands.
Andy Williams describes the excitement of the sessions, saying:"There were times when we felt an indescribable buzz. It was a breeze compared to 'Kingdom Of Rust', with one of the nicest things being just hanging out. We were never that far apart; I'd call Jimi every month. We're too closely tied to have lost contact;I'd miss them."
Refusing once more to fall into predictable, guitar-bass-drums,'plug in and play' dynamics, The Universal Want's overwhelming sense of intrigue owes everything to Doves' three decades experience at the wheel of their band (a lifespan going back to their time as dance band, Sub Sub), and an autobiographical trip through the sounds of their own lives. From seaside amusements (Carousels) and the remembered heat of acid house (UniversalWant) to the aimless summer days of youth (Forest House), each song sets a new reel running to show fragments of their lives and, in turn, those of their listeners. Shadows of Bowie, rare 70's soul, Detroit House and Afrobeat are cast subtly across the shapeshifting album.
Cycle Of Hurt's, disembodied mantra of 'it's a trap', finds the band once more concerned with finding freedom in a cynical,aspirational age. A band that respects creativity itself, allowing the process to meander, it wasn't, and isn't their intention to write a manifesto rallying against vapid consumer culture. "When it comes to themes," says Jez "we always find a very collaborative way forward. It's all quite subconscious. It's only when you look back that you can see the threads linking the songs."
Rewarding fans for ten years' worth of patience, and welcoming new fans into the fold in style, Doves release The Universal Wantin multiple, special edition formats including a sought-after box set, comprising the album on vinyl and cassette, a limited-edition Remix LP, postcards and signed prints. .
The Universal Want was self-produced by Doves, with Dan Austin contributing to seven tracks, while Martin Rebelskibacks the band on keys, pianos and synths for a fifth time. The full tracklisting is:
5.
Cathedrals Of
The Mind
Album artwork comes hand-picked by the band by London-based, Finnish photographer, Maria Lax. Her 2020 photobook, Some Kind Of Heavenly Fire, set evocative images alongside memorabilia relating to a moment in time when hardship, industrialisation and UFO sightings disturbed the peace of her isolated hometown in Northern Finland. Struck by the power in her work, Goodwin acquired the book, then gifted his band mates a copy each.