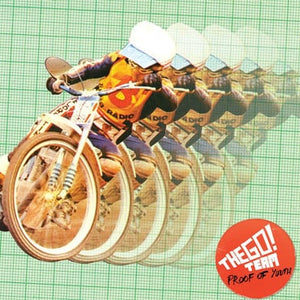 Available exclusively in store on Saturday 18th June 2022. Any/all remaining copies will be on sale online from 8pm on Monday 20th June
The Go! Team reissue their second album Proof of Youth for Record Store Day 2022. Long since out of print, this 15 year anniversary edition comes with an exclusive sleeve and a flexi disc of non-album track Milk Crisis and is pressed on "bubblegum" vinyl.
This edition of Proof of Youth is limited to 3,000 copies worldwide. Bombing melodies into the stone-age with its needle-inthe-red, anti-production approach, Proof of Youth lurches from bubblegum pop to white noise in a heartbeat.
The album brings a gang of glorious misfits to the party - including Public Enemy legend Chuck D, the original Double Dutch Divas, Maryland's pint sized Rapper's Delight Club, Marina from Bonde Do Role, Amsterdam based Solex and Washington DC's Frederick Douglas All Star Cheer Team. Songs on Proof of Youth include Grip Like A Vice which sees b-girls slaying the fellas with brass blasts, a clap machine, a pound shop keyboard and a ton of feedback. Doing it Right sounds like a marching band fully cranked through a Marshall stack. Keys to the City is epic widescreen Ennio Morricone transplanted to 70's Brooklyn. Titanic Vandalism slams blaxploitation boogie against guitar crunch with some heavyweight vocal sparring from the ladyeez. Patricia's Moving Picture is a sun soaked bus journey through a musical instrument shop. The only let up on Proof of Youth comes in the shape of Vince Guaraldi / Mo Tucker tinged duet I Never Needed it Now So Much and a cover version of long forgotten sound track to ITV schools programme My World.
1. Grip Like A Vice
2. Doing It Right
3. My World
4. Titanic Vandalism
5. Fake ID
6. Universal Speech
7. Keys To The City
8. The Wrath Of Marcie
9. I Never Needed It Now So Much
10. Flashlight Fight (feat. Chuck D)
11. Patricia's Moving Picture

Flexdisc track list:
1. Milk Crisis